"Its all Fun and Games"
is more than the title... for Ralph White, its a lifestyle !
---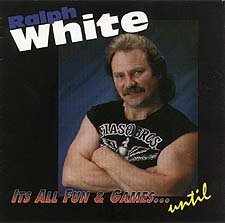 This exciting new album by Ralph White marks a turning point in his career. After years of fronting the band Slamm, Ralph has stepped out on his own and blown the doors off all his previous work.

Producer Len Osanic ( Tommy Floyd, Marauder, Two Trains, Highway # 61, The Cartels) has thrown in the kitchen sink and come up with the raw twisted humour of Ralph as no one else has before.

"The key to this album was getting keyboardist Robbie King away from his obligations with Bryan Adams" says Len. "Once we had that old Deep Purple, Steppenwolf, Hammond B-3 organ sound that Robbie can play, I knew that the album was going to rock.
We got Robbie at a good time too ! He wanted to play a style of music that was a little more dangerous and out there than the stuff he had been doing with Bryan". No offence to Bryan's music, just that Ralph White knows because of his lyrics, most of his songs will never be played on the radio.

---
About the album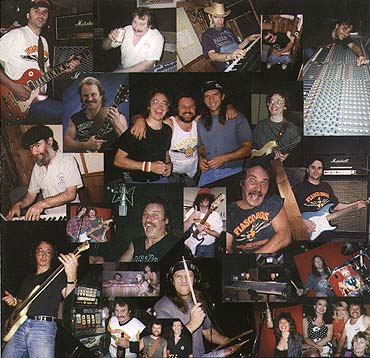 Basically the album was recorded in only one week and that is quite evident when you hear the enthusiasm on all the tracks. There is an acoustic track at the end that was done in one day, and the live cut was done before the studio work. Mixing was a different story.

Ralph and Len worked for several weeks afterwards, recording and re-recording the vocal tracks. Len stated that, "With Ralph the lyrics would change from week to week, I had to put my foot down and finally say enough ! Every time something bizarre happens to Ralph. ( and so many things seem to happen when this guy around), he wants to write a song about it. We had all these bedtracks, so he had three or four different sets of lyrics to many of the tracks. And as always some of the tracks recorded were not included on the final product".



---

New album on the way

Just when you thought it couldn't get any better, it does.
Ralph had this amazing party at the studio. ( Fiasco Bros. Recording Studios)

Bass Guitarist - Jac Garret spoke about the new songs,

- "One of the many memories I have from that blur of four or five days was, "The Big Moose" ! I'll tell you this story because if you don't know him you just wouldn't believe the stuff that Ralph pulls off. But he does, again and again and again. Stories this bizzare, you just can't make up, they're just too crazy".

"On a saturday afternoon Ralph decides to rent a mechanical bull ! He had them set it up right in the studio ! Then he had his road crew guys set up a video camera !
He calls a couple of friends and a couple guys who work at some bars to have them announce around town, "That any girl who can ride the the bull for one minute will win $1000.00 cash ! Sounds easy right.

Within a couple of hours we had girls dropping down to the studio every ten minutes, and lots of them, They'd bring their friends, some of them were strippers getting off work, girls from the clubs. Anybody and everybody, friends and strangers alike.

Now the catch, he'd say, " Didn't they tell you that you had to be Naked when you ride". Well, the girls were already there, and there was the $1000.00 cash in plain view. So you wouldn't believe how fast they stripped down and lined up to ride "The Big Moose", as Ralph refered to him.

I've never seen anything like it ! We cheered, and we laughed, till we all cried. It was a riot ! No girl ever stayed on long enough to collect, so it didn't cost Ralph a cent (except the rental). The surprising thing was most of the girls stayed to party with us, and even some were calling they're girlfriends to come on down and try to ride "The Big Moose".

You can't put a price on entertainment like that !
If we ever do that again, I'd put up the $1000.00 myself. But that's Ralph, if its fun, money is no object !
I just hope you get a chance one day to buy the video. I'm trying to talk him into releasing the footage of "The Big Moose" and all the excitement that week. Along with his CD's and T-shirts and Hats.



---

Some of the Cheer Leaders ham it up with Ralph from the video shoot.

---

One of Ralph Whites biggest fans is retired Col. L. Fletcher Prouty.


"When I put on "Ralph White's CD 'It all Fun and Games' It reminds me of the the good old days back in the Pentagon with the Joint Chiefs of Staff. We had a big stereo in the 'Gold Room' and we had a 5 way system with big 30" sub woofers, way before the Soviets.

Well after we gave our reports a few of us stayed behind and we used to really crank it up!
The Joint Chiefs aren't the stuffy shirts you might think they are. Just ask Colin Powel, I've heard he's had it, "Over Seven" as we used to call it on several occations. Thats as loud as a T-33 at a daybreak take-off.

One night in paticular Bob McNamara or 'Bottom End Bob' as he was known down there, tried to get a test pressing from some record company executive played on the system. Well, it was a song called in the "Garden of Eden" by a group whose name I don't recall. Anyway, he had it way "Over Seven" and that was a no-no. Although he was a member of the NSC, 5412 or "40 committee" he had no authorization for that kind of volume.

It wasn't too long before NSA and the Agency down at Foggy Bottom had their listening devices drowned out by the low end. I recieved a call about 3:00am from an agency man who's name I will never reveal. He held up the phone and said, "listen I can hear them from here", I could hear the drone over the phone so I knew what that man was up against.

Well, I had no authority to tell them to turn it down, so I called down to an office down in by Mall and it was bedlam.
This time they called President Johnson directly!
They told him something called "In the Garden of Eden" was drowning out every device from the "E-Ring to Foggy Bottom. The President called down to the 'Gold Room' to find out 'What The Hell' was going on.

Well an junior officer answered the call. LBJ in his big Texan accent bellowed "Turn it down" ! And I understand that the officer then asked, Mr President could you please define "It", turn what down?

LBJ bellowed, "That goddam, Ina Godda Da Vidda" and slammed down the phone. The officer reported to "Bottom end Bob" and his friends that they were "Over Seven" and the President requested "Ina Godda Da Vidda", be turned down.
The record company executives, recalling how Johnson had mistakenly called the RS-71 the SR-71 and Agency unwilling to correct him had went along with the mistake and renamed the plane SR-71.
McNamara had a worried look across his face, he said gentlemen, this song from this date forward will be known as "Ina Godda Da Vidda". And the rest is history!