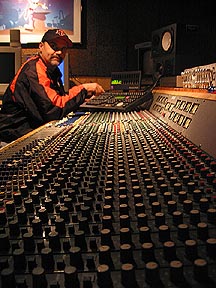 Len Osanic's "Fiasco Bros. Recording Studios" has been in operation for 45 years at the same location!
Working with such talent as Tommy Chong, Bif Naked, The Surf Dusters, Nusrat Fateh Ali Kahn, Richie Sambora, Brent Lee, Gaye Delorme, Loco, Victorian Pork, Blasphemy, Annihilator, Randy Rampage, Wretch, Mass Undergoe, The Rebel Spell, Tommy Floyd, Dog Eat Dogma, Jess Lee, Brian Smith-Trooper, Todd Fancey, Frank Soda, Tourist Machine, Susan Kovacs, Holly McNarland, The Stag Reels, Manmohan Waris, and many, many, more.

Also film work for Oliver Stone and Gov. Jesse Ventura.

Come tour Fiasco Brothers Recording Studios! We are a professional recording facility that can handle everything from demo recording to full album projects, sound for film, voice-overs, tape transfers, CD mastering.